Home > Seoul Peace Prize > Laureates of the Seoul Peace Prize > Laureate 2002
Inaugurated by the citizens of Oxford, the United Kingdom in 1942 with the aim of helping the Greeks who were suffering under the Nazi rule in the wake of the Second World War, Oxfam has helped the poor and underprivileged around the globe for the last 60 years.
  Under the motto of "Do not give people fish but teach them how to fish," Oxfam has provided the underprivileged with technology education and helped them start their own businesses. In Mali, Africa, Oxfam funded small businesses set up by women living in poverty. In Bangladesh, it provided people with education in horticulture and tree-planting, helping them create a lasting base for self-reliance, rather than providing temporary relief. Also Oxfam opened mobile classes for the nomadic children in the desert areas and repaired the existing school facilities to provide the students with more education opportunities. Thus it has been engaged in a wide variety of humanitarian activities.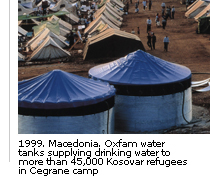 In September 1994, Oxfam's timely supply of clean water saved the lives of 800,000 Rwandan refugees who escaped from the civil war and were at the risk of catching water-borne diseases in the border area of Zaire. In June 1995 when North Korea first made an official request for assistance to the international community, Oxfam's staff moved into the North. They imported 244 tons of chlorine from China and provided the North Korean residents with chlorinated clean water, in addition to the aid activities in the health care and medical areas. Oxfam withdrew in 1999 after making a statement condemning the North
Korean authorities for their restrictions on the activities of its aid
workers and the ambiguity of aid distribution within the North.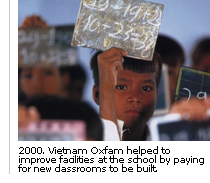 In March 2001 when the multinational pharmaceutical companies asserted the patent rules of the WTO and filed a collective lawsuit against the South African government which was seeking to import cheaper AIDS medicines, Oxfam criticized the drug companies by saying that "the drug giants are trying to make profits at the expense of the AIDS patients in the poorest countries" and staged a campaign against the companies and the WTO. As a result, the South African court case was dropped and the companies announced that they would review their pricing policy.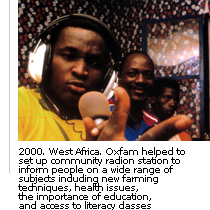 In the "2002 Make Trade Fair" report, Oxfam advocated that "If the weight of Africa, Southeast Asia and South America in the global trading is raised only by one percent, as many as 128 million people can get out of poverty" and demanded the rectification of the unfair trade practices committed by the advanced nations.